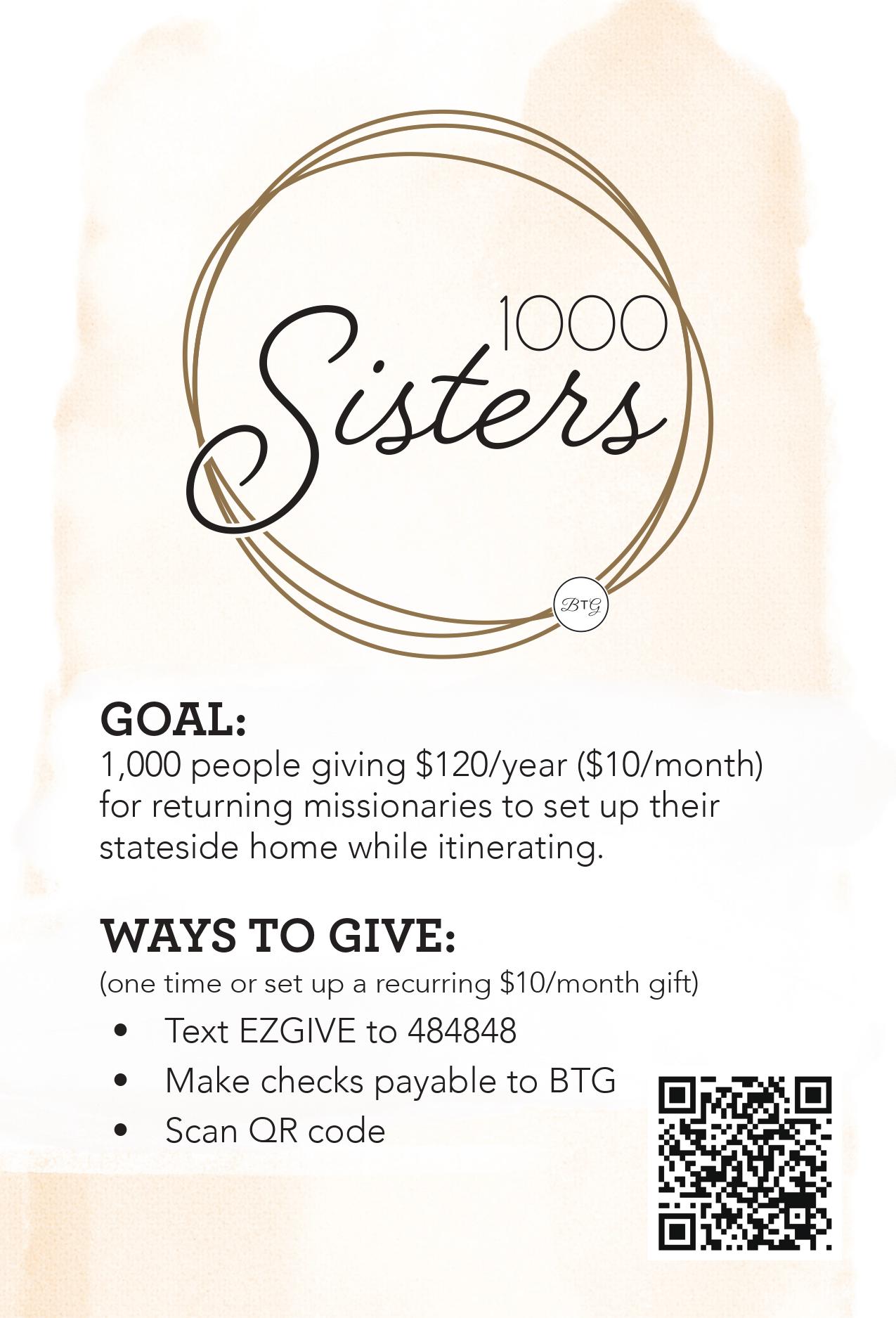 1,000 Sisters
Thank you to everyone who joined us for the 2021 Garden Coffee! We were so blessed by a beautiful morning at Lake Geneva Christian Center, Kirby St. John speaking, and Derrick & Ashley Benoit leading worship. We are also grateful to have gathered as sisters and learned of our new initiative: 1,000 Sisters!
1,000 Sisters Goal:
1,000 people giving $120/year ($10/month) to Project Life–a fund that assists returning missionaries with setting up their stateside home while itinerating. (Learn more below.)
This year's opportunity to join 1,000 Sisters will be available through August 31, 2021.
Ways to Give:
Mail a check to BTG: 1315 Portland Ave. S, Minneapolis, MN 55404
For a gift of $120 or more or $10/month, we will mail you a 1,000 Sisters t-shirt and charm bracelet ($45 value gift package). Add a new charm each year you participate in 1,000 Sisters!
Thank you for your support of Project Life!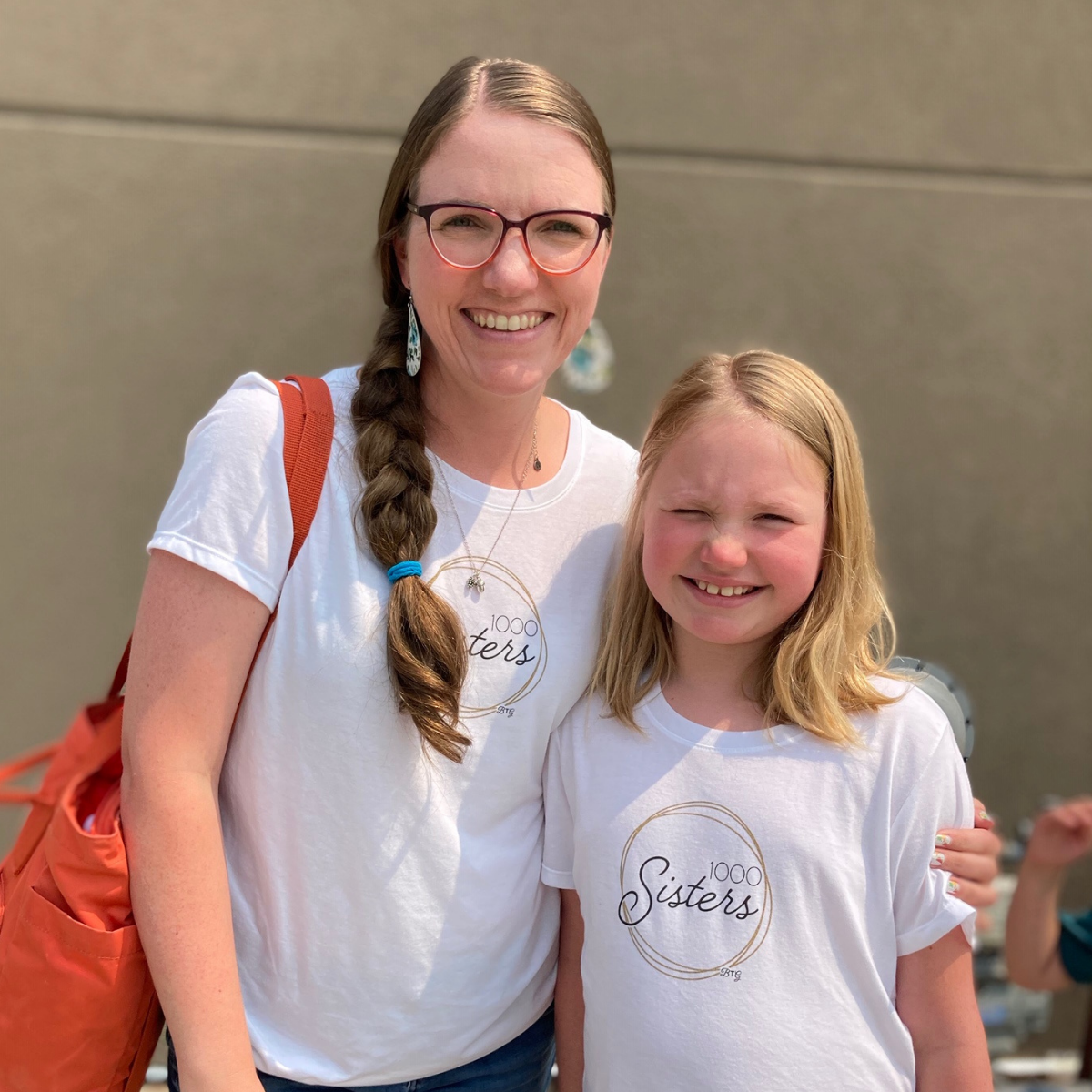 Project Life Purpose
Project Life is a ministry to help supply the practical needs of Minnesota missionaries, church planters, pastors, rural pastors, kids pastors, and youth pastors. We support these leaders through promoting missions and raising financial support during the annual Garden Coffee and through working with volunteers to operate the Life Warehouse.
Upon returning home from the field to begin itineration, Project Life offers Minnesota missionaries a shopping trip through the Life Warehouse, as well as a gift of $1,000 for personal needs or setting up their stateside home.
Garden Coffee
July 10, 2021 at 10:30 am
Lake Geneva Christian Center, West Campus
Free event for all women and girls; no RSVP required
The Garden Coffee is an event for Minnesota women and girls to worship, network, and hear from one of our own Minnesota missionaries. This event is also our annual fundraiser for Project Life.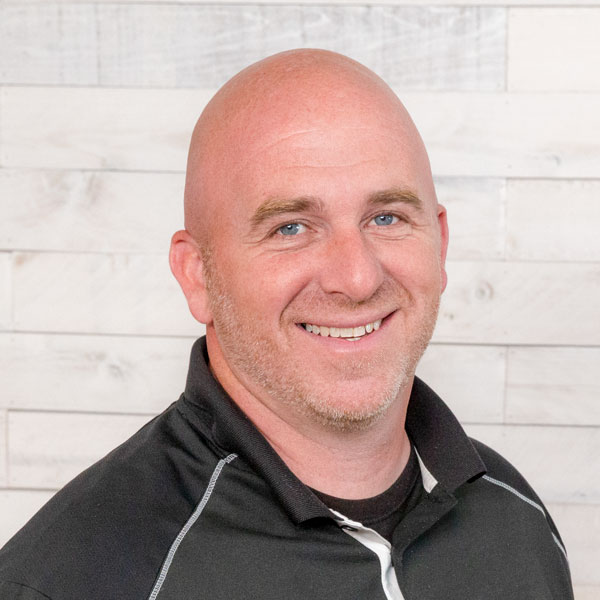 Kirby St. John - Speaker
Kirby St. John is the District Youth Director (DYD) of Minnesota Student Ministries, serving the youth students and pastors of our churches across the state. Kirby is a visionary leader with a passion for missions! He has led the students of Minnesota in raising well over one million dollars annually for Speed the Light and has been awarded as the highest-giving student ministry in the nation for all of his years as DYD. Kirby is a champion of missions–for both going and giving–and has helped many youth pastors see the need to get students across the state involved in sacrificially supporting missions.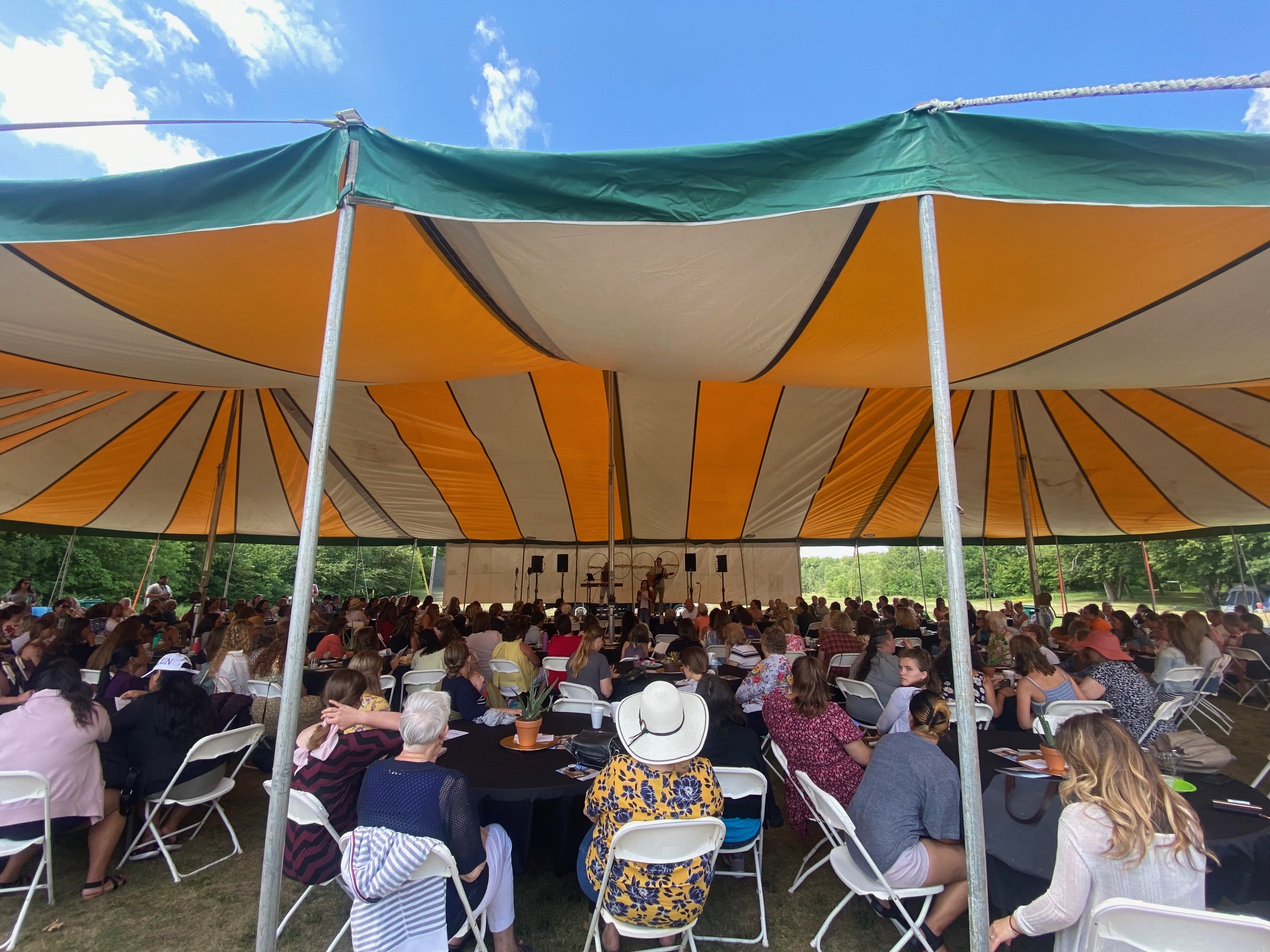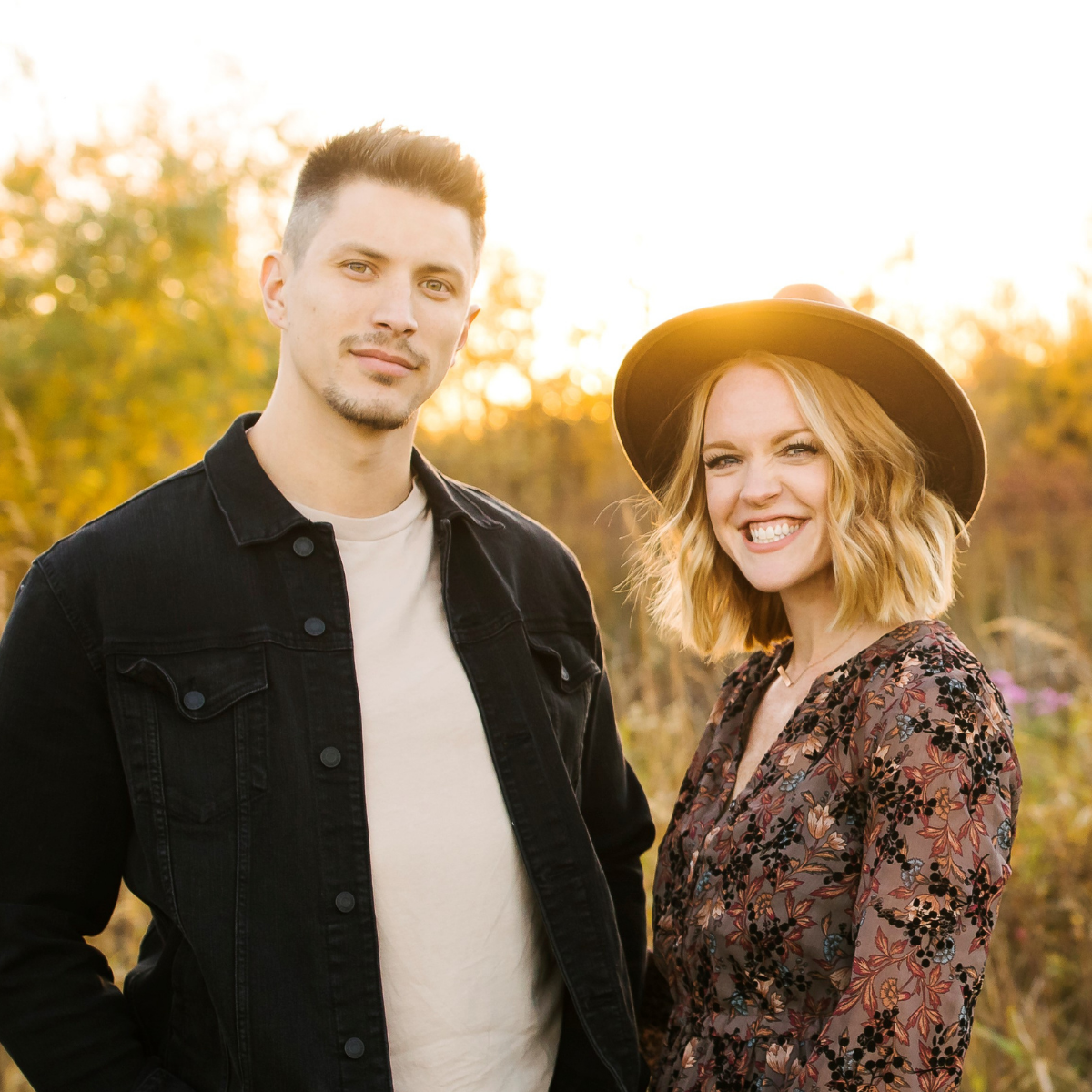 Derrick & Ashley Benoit - Worship
Derrick and Ashley Benoit have a heart for teaching and leading people into worship. They both serve on staff at River of Life Church in Cold Spring, MN over the Creative Ministries department. They're passionate about training up the next generation of worship leaders and developing creative individuals to glorify God. Both graduates of North Central University studied music and had a desire from a young age to serve in full time ministry. When they're both not wearing multiple hats, you can find the young couple at their local Indian restaurant or enjoying a Sunday afternoon nap.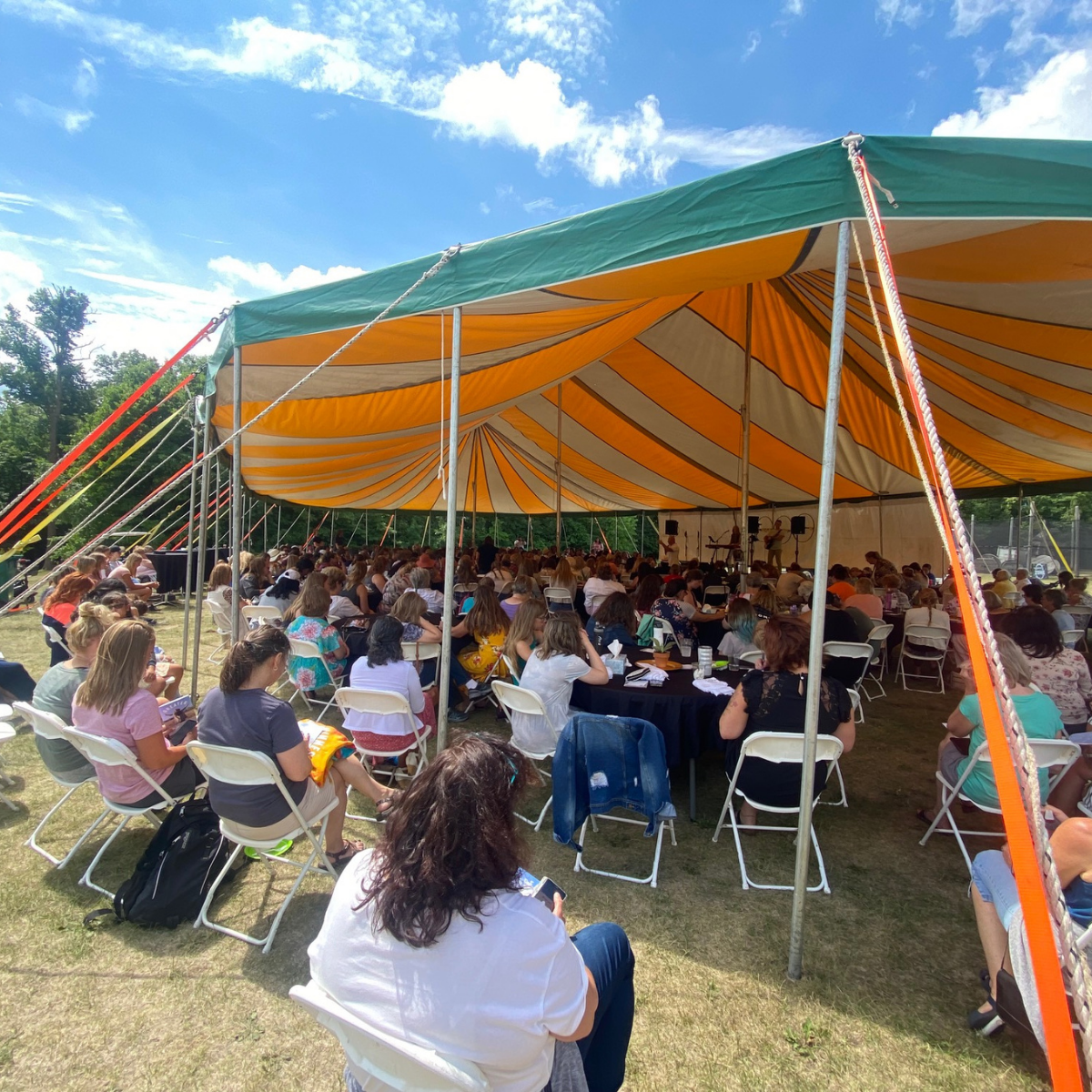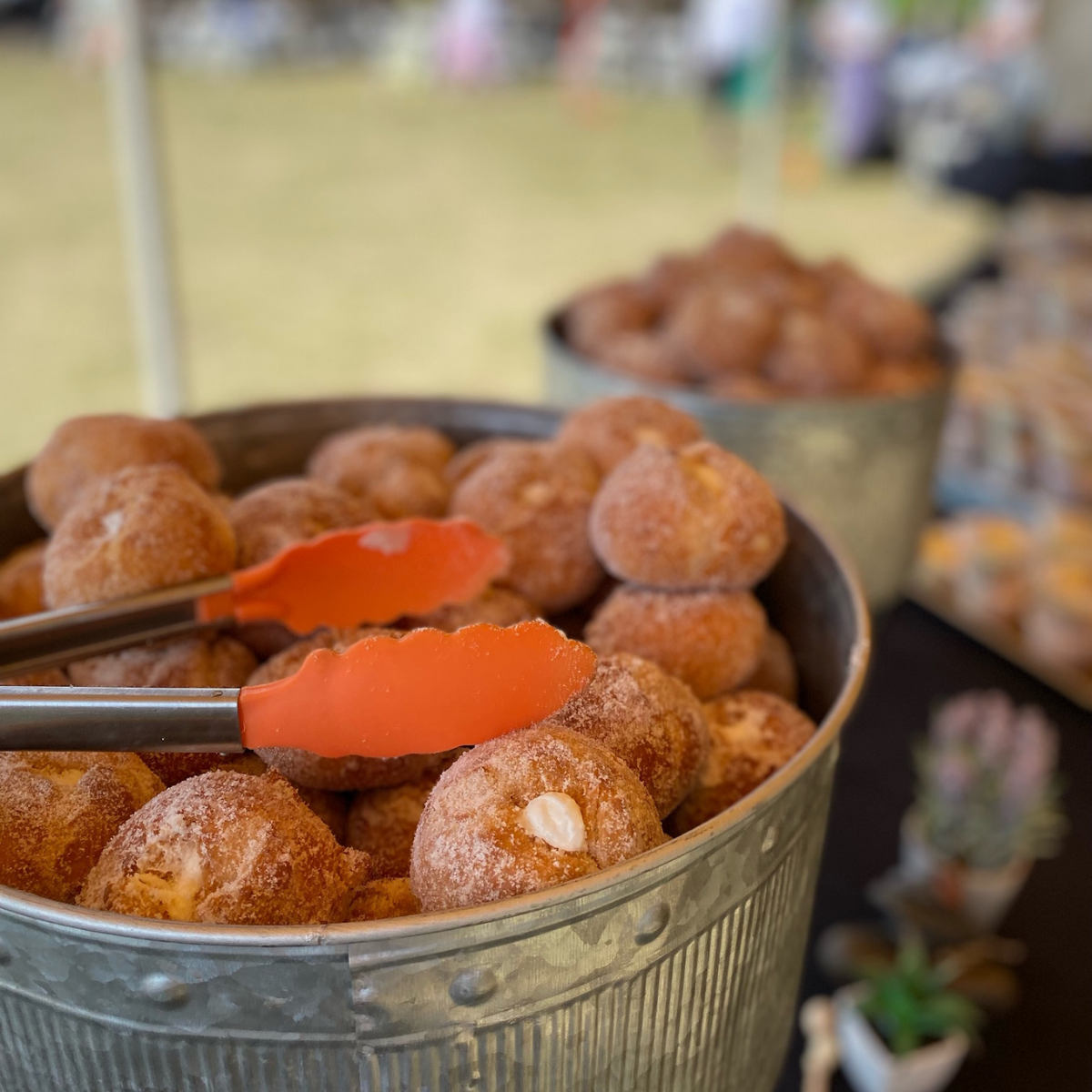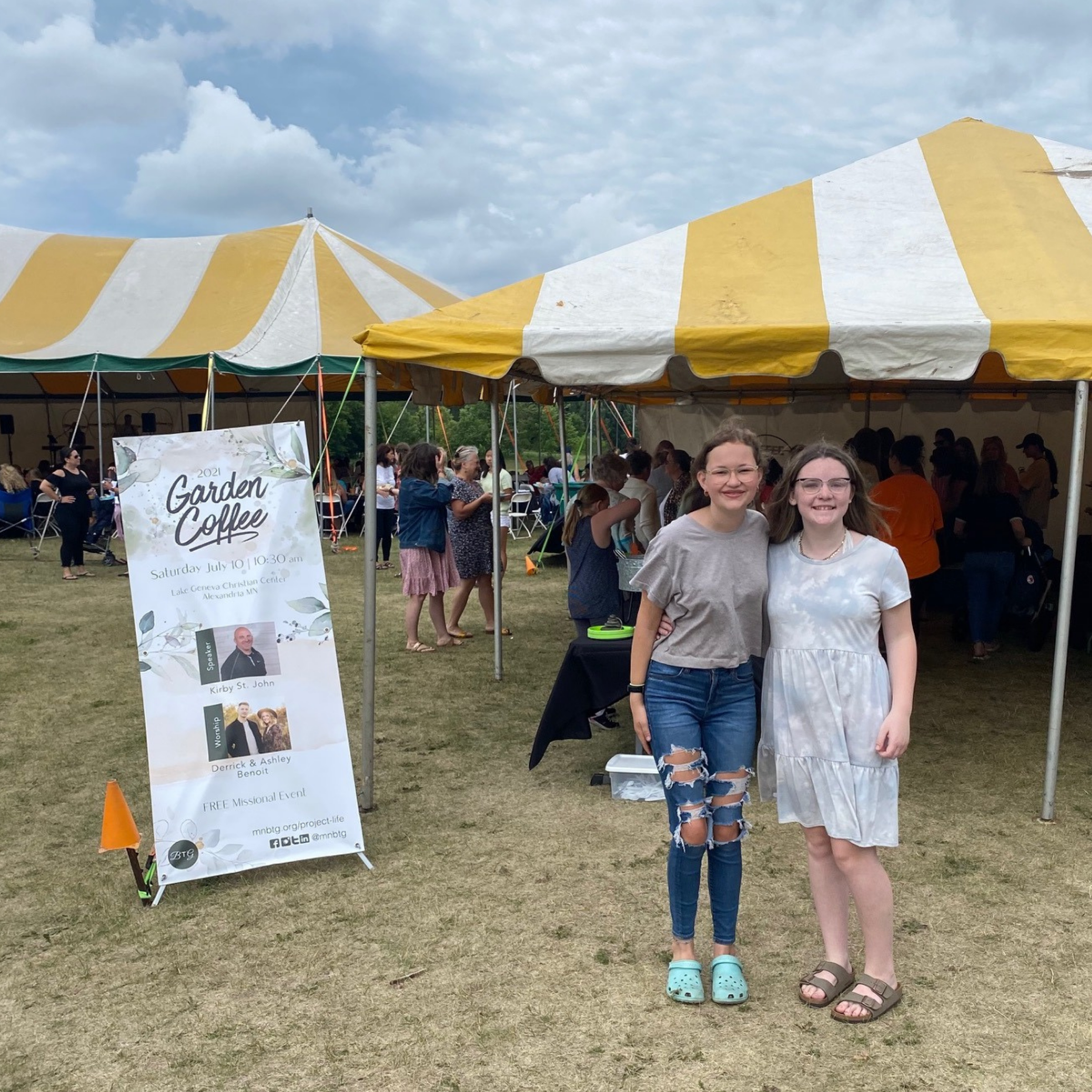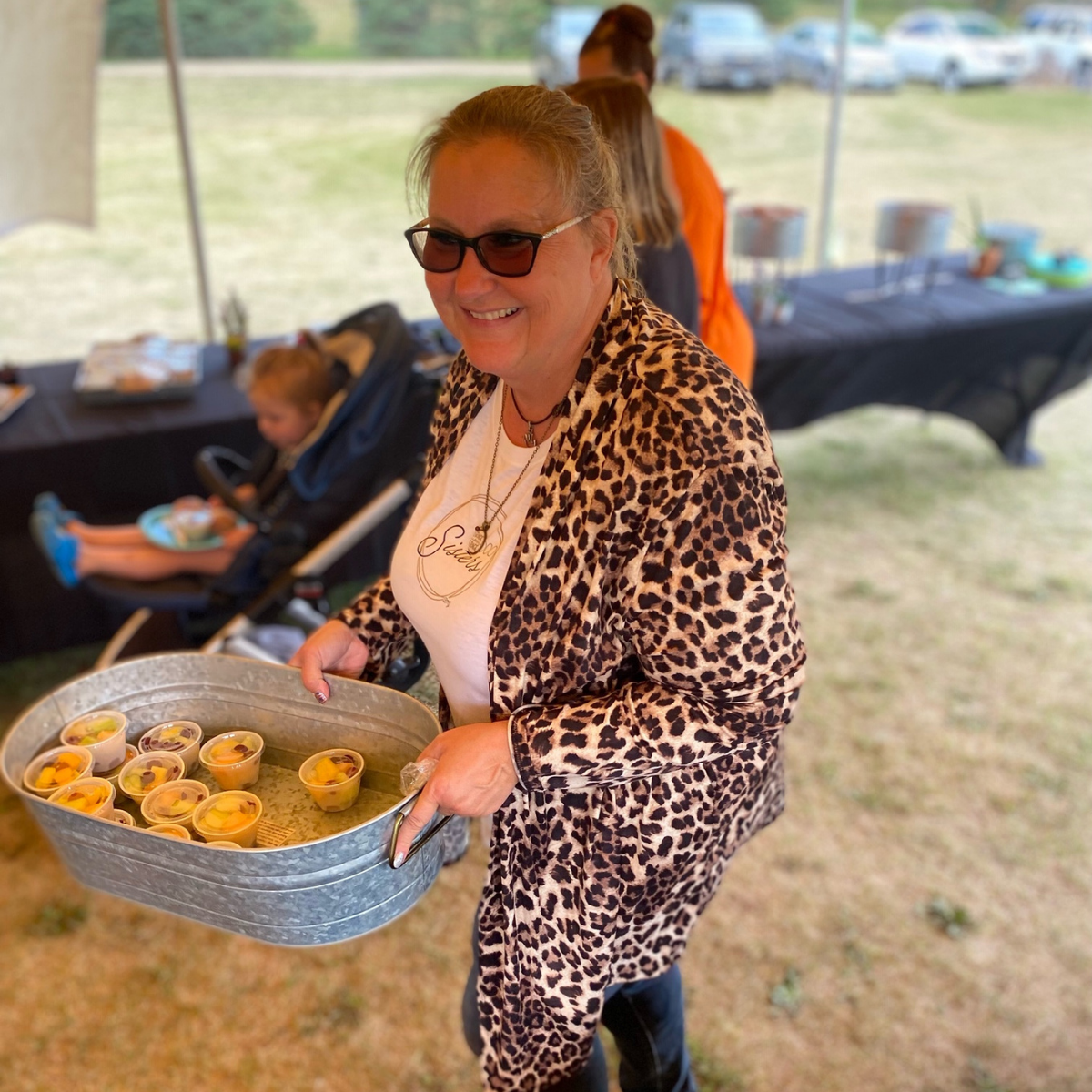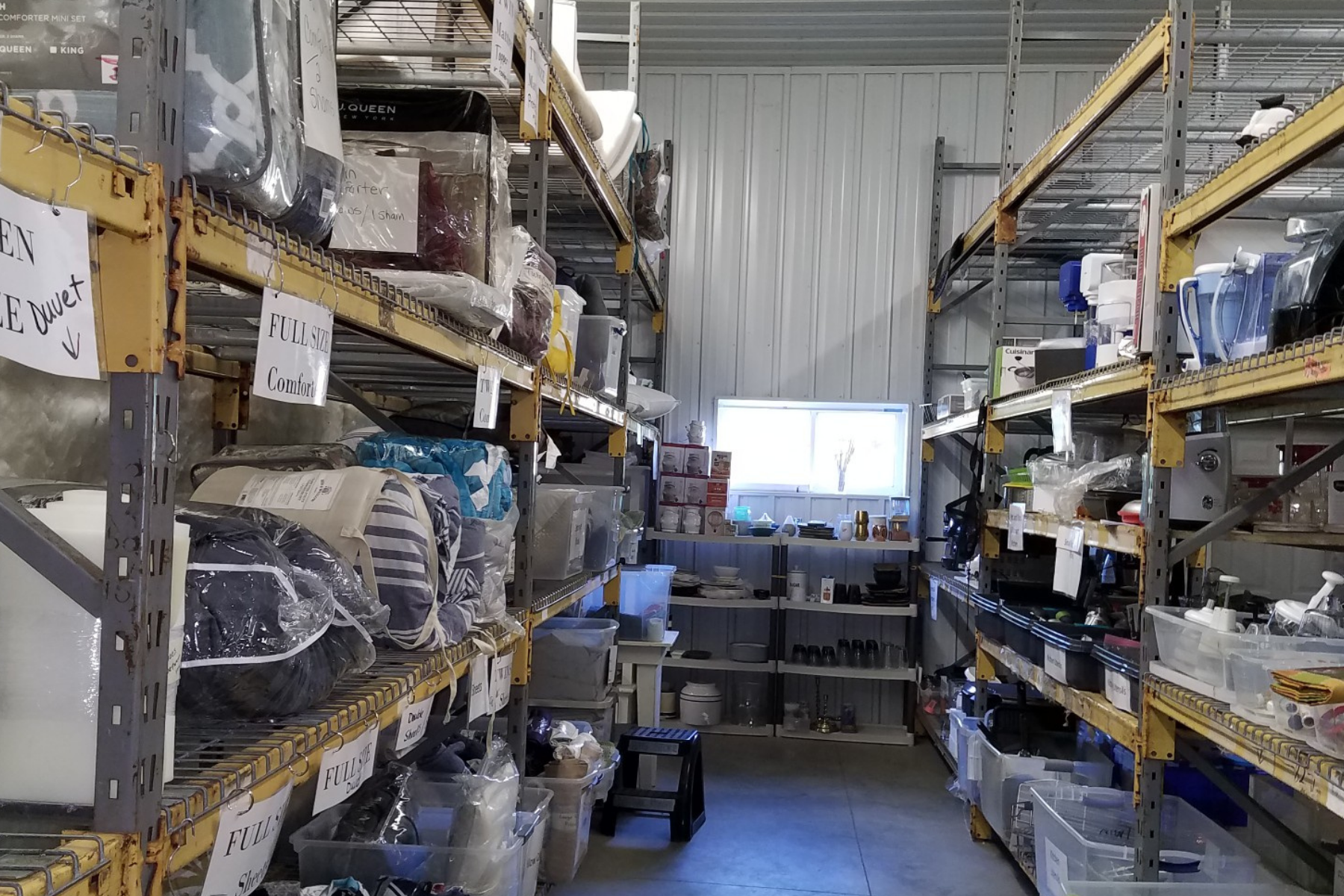 Life Warehouse
Simply put, the Life Warehouse is warehouse at Lake Geneva Christian Center that offers practical household products to Minnesota career and newly-appointed missionaries, church planters, pastors, rural pastors, kids pastors, and youth pastors. These products—and funds to purchase these products—are donated by individuals, businesses, or local churches.
Make Your Annual Appointment to Shop:
We are honored to offer MDC credentialed ministers the opportunity of ONE annual shopping appointment at the Life Warehouse! (Itinerating missionaries are welcome to go through as often as needed, however.) Please email kostrem@mnaog.org with the date and time of when you hope to go through the warehouse. Also, if you have a special need or request during the year, please don't hesitate to contact us.
How to Help
Donate:
Churches and individuals may give toward the purchasing of products by donating online or by mailing a check to BTG – Life Warehouse: 1315 Portland Ave S, Minneapolis, MN 55404.
Volunteer:
Volunteer in the Warehouse: Help us organize and display donated store items. Individuals or groups of up-to six people can volunteer.
Become a Volunteer Driver: Pick up and drop off items at the Life Warehouse on a routine basis.
Email info@mnbtg.org with interest in volunteering!
Donate New Products:
(The following items are often of greatest need.)
Towels
Twin & Queen bedding
Mixers, Toasters, Blenders, and All Appliances
Vacuums
New, Fast Cooking-6qt Roasting Ovens (Made by Nesco)
New Stock Size Pots
New Sauce Pans